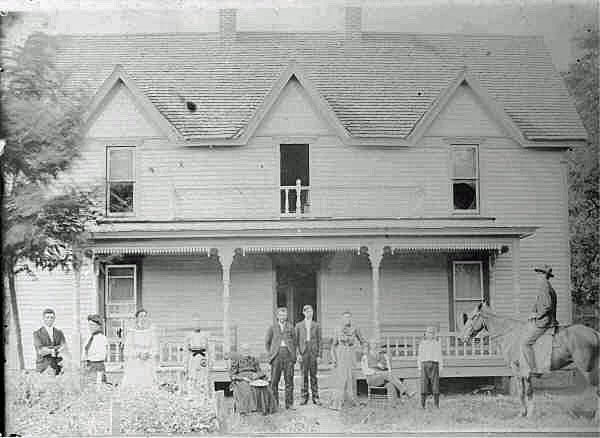 Please help identify the people in this photo. E-mail any information regarding this family. See additional photo below.
This house is located in Lincoln County, TN.
Now boarded up. These two pictures are of a white two-story house that was near Red Oak. The original owners were thought to be Louisa
Josephine "Josie"
Clift, who married William "Bill" Franklin Wright. Bill Wright was a Methodist minister and also a blacksmith.
The older lady is perhaps Bill Wright's mother, Julia, as she is listed on the 1910 Census in the Civil District 15, Lincoln Co., TN, as
Josephine's mother-in-law. This couple had no children and she left her house to her younger sister, Amanda "Mandy" Melvina Clift who married Benjamin Luther Wright, who was the brother of Bill Wright. Amanda left the house to one of her children, perhaps either, James E , Maggie E, of Carrie B, with whom she lived in 1910.

A sister to the Wright brothers, Henrietta, married a brother to the Clift sisters. Another sister to Josie and Mandy was Margaret Clift, who married a Park.